Guest post by Ces Rosanna Price 
As a qualified graphic designer with over 25 years experience it is my passion helping small businesses to create branding that both you and your ideal customers LOVE.
Here are my TOP TIPS for what to consider when creating branding for your Product based business.
The first step is to know your brand foundations. You need to be clear on:
• Brand Name
• Tag Line (if you have one)
• Selling points / benefits / what is the desire for your products?
• How do you want people to FEEL when they see your brand and products?
• Who are your ideal customers?
• Where do you want to position perceived value? (Budget / Affordable / Luxury)
If you have different customer types maybe you could consider answering the above questions for each product that has a different customer base… this will allow you to be specific and make sure each product branding appeals directly to the right people. You want to make it easy for your potential customer to choose your product by ensuring they love the look of your brand as a whole and the product which is perfect for them.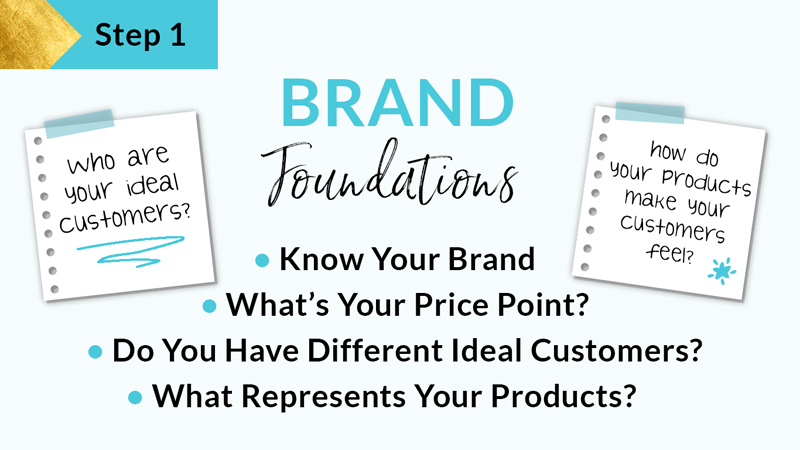 Creating Your Brand Designs
Once you know the answers to the above questions, you can ensure you use colours, textures, fonts, images, graphics, icons, logos, packaging, labels, online presence, website, adverts, social media presence and marketing designs that evoke the right 'brand trigger' feelings and appeal to the right customers.
I suggest working with a professional designer to create your branding. Design is more than creating something that is aesthetically pleasing. Design serves a purpose and you will want your branding to resonate with, interest and appeal to your ideal customers. Consider the ethos of your brand and products. For example, do your products encourage fun and activity? Then look for flowing shapes or shapes with multiple elements to them, vibrant colours and view fonts that seem to have movement or character.
Perhaps your products are Eco-Friendly? Then think about developing designs using nature elements. Do you have luxurious products perhaps? Then work with stylish elegant fonts and shapes and introduce limited colour combinations possibly adding gold or a metallic to your colour palette. Or if you have products that help with relaxation for example, consider pastel colours and gentle delicate shapes and fonts.
Consider colours, fonts and icons that reflect what your brand stands for.
Start with putting together mood boards of colours, textures, fonts, images, graphics and icons that are in line with the feelings you want to create about the brand. Then develop logo designs, brand backgrounds and a colour palette that portrays the right image for the main brand.
You can then look at creating modifications and variations of these main brand specifications to use for different products if they have different customer bases… for example if you sell skincare you might have different ranges for women and men… you could use the same logo and background but change the colour for each range so they are specific to the target group whilst maintaining strong brand recognition.
Or if you have products for adults and products for children, you may want to have a brand name / logo that is consistently on all products for recognition but add the word "Kids" in a child friendly font for those products created for children, or vary the logo in such a way it reflects more child centred styling. Using different icons and sub-brands to compliment your main logo can really help your products appeal to specific niche target groups.
Spend time developing ideas and seeing how designs will compliment each other when the brand range is seen as a whole.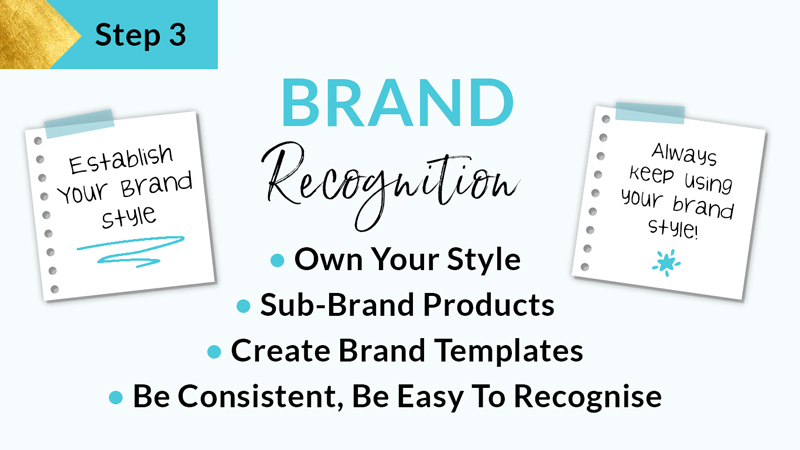 Identify where you will have a brand presence and create a consistent professional brand image throughout.
Consistency gives a feeling of credibility, allows you to influence perceived brand value and makes your brand and products easy to recognise whether on your website, on adverts, or shown in your social media content. Using your brand colours and styling, create templates for your website, banners, adverts, social media posts, pitch decks, pdfs and more.
This will make it easy for you to create and add content and brand assets as you grow your business.