Premium Custom Canva Template Design Service
The visuals you need to attract dream clients into your universe.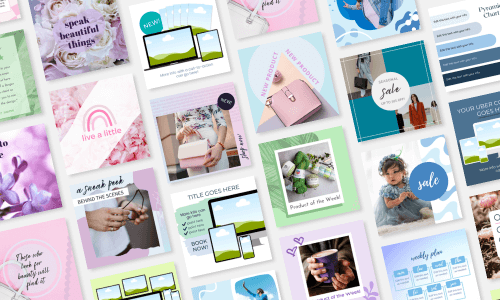 Get professional graphics that capture the essence of your brand and showcases the true value of your offers.
Because messing around or winging it with DIY designs isn't always gonna give you the results you deserve…
…Not when you're busy with customers and clients to serve and a growing business that needs you at the helm.
Your marketing visuals need to do the work they're meant to – attracting the right people to your business – so you can concentrate on the tasks that only you can get done.
Apply for Custom Canva Template Design VIP Day
The VIP custom Canva template design package is priced at $160 the service will be tailored to fit your exact business and branding requirements. 
To get started, tell me a bit about your business and what graphics you'd like designed:
This is a significant STEP UP from DIYing your own templates or using the basic Canva templates available, giving you a unique, professional look that will stand out in the crowd…
…all done for you and done in a day!
—
FAQs
What types of templates can I request?
Designs can include (but are not limited to) templates for: square social media posts, Instagram/Facebook stories, IG carousels, Pinterest pins, short videos/Reels, Facebook ads, social media profile covers, Etsy/website banners and more!
How many unique templates will I get?
It depends on the type of template, but if social media posts for example you will more likely end up with a variety of over 50 unique designs.
How many design revisions are included?
Up to 2 design revisions are included to ensure you are absolutely happy with your set of new visuals.