Case Study
Kitty Cats Joy is a small cat-themed online gift shop. It's a product-based business that I also run, which started up in early 2019. 
As a small e-commerce store, one of its main challenges is bringing in more cold traffic and building an online audience of potential customers and fans to promote its products to.
Kitty Cats Joy goal with Pinterest is to bring in more visitors to its product pages, lead magnet landing pages and blog posts. 
The store also uses Tailwind for scheduling and posting pins.
The previous strategy used, included repinning to several different boards and also repinning a large amount of other peoples pins to its own boards. At the time that was a commonly used strategy and had been working well.
The Problem
After the Pinterest algorithm changes in 2021, many of Kitty Cats Joy's pins were no longer even being found, activity on the account died down and it seemed as though even getting pins shown on Pinterest was becoming impossible.
With all that in effect, the traffic to the website from Pinterest had dropped off to almost nothing! 
The New Approach
After realizing that it was the strategy that had to change, I discovered a new method of pinning that really kick started the account again. 
Even after just a few days of using the new pinning method, impressions were back up and so were engagements, and crucially pin click-throughs too!
It's also a strategy that plays by the rule book, avoiding the possibility of getting in Pinterest's or Tailwind's bad books!
Results
Below is the Pinterest impressions analytics report from June 2021 to mid-September 2021. The impressions are going up showing the pins are now actually being found and seen by people 🙂
So you can see for yourself the increase that happened shortly after the new strategy was implemented.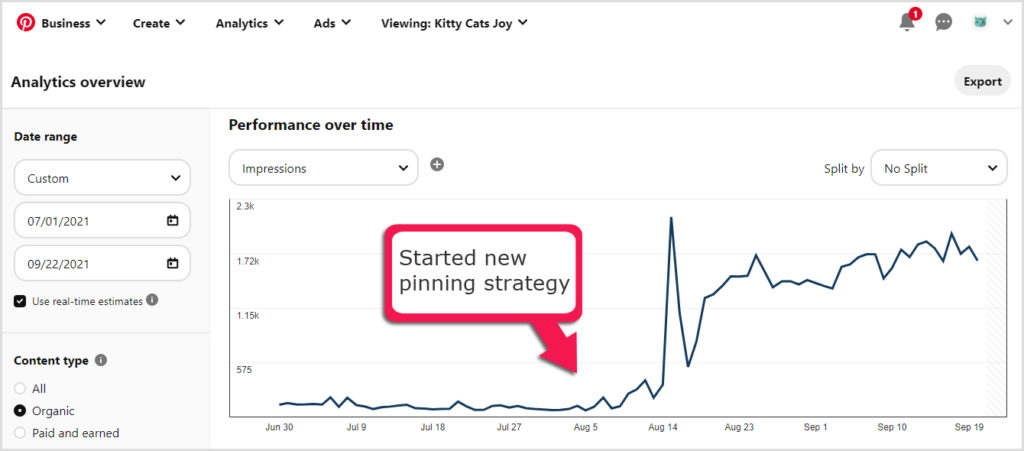 This particular account is still a work in progress. But I'm pleased to say the results so far are very encouraging!
The new strategy not only works for product-based businesses but would also work well for service-based businesses as well as bloggers.
Pinterest Management
If you would like your Pinterest account managed for you, simply get in touch. Or you can learn more here: Pinterest Management Services.